[row]
[span8]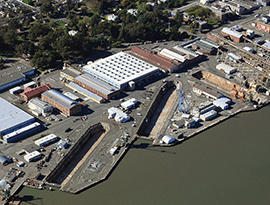 Mare Island Dry Dock, LLC operates on an 18+ acre site of land.
The site, located on Mare Island, is the home of both Dry Dock #2 and Dry Dock #3.
Both are active concrete graving docks with the largest capacity being a length of 720 feet.
Both Dry Docks can accommodate ships under fully loaded conditions.  Mare Island Dry Dock, LLC. has a secure berthing of up to 1,300 linear feet.
[button text="recent projects" link="https://www.middllc.com/portfolio/" style="default" size="normal" target="_self" display="inline" icon="no"]
[clear]
[spacer]
[row_fluid]
[one_fourth]
Dry Dock 2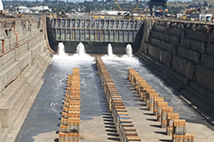 The first dry dock located on the shipyard is Dry Dock #2.
[custom_list]
720 feet long
98 feet wide
[/custom_list]
[/one_fourth]
[one_fourth]
Dry Dock 3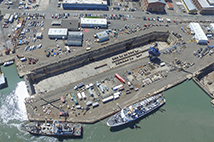 [custom_list]
680 feet long
90.5 feet wide
[/custom_list]
[/one_fourth]
[one_fourth]
Cranes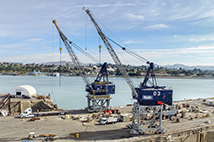 [custom_list]
Crane B-1
Certified at 67,000 lbs (33.5 tons)
Crane D-7
Certified at 268,000 lbs (134 tons)
Crane D-3
Certified at 56,000 lbs (28 tons)
Grove 165-ton Rough Terrain
(image below)
[/custom_list]
[/one_fourth]
[one_fourth]
Berthing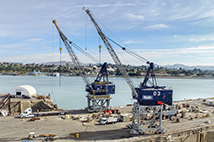 [custom_list]
Three secure berthing options
Berth 12 – 650 feet
Mooring up to 950 feet
Berth 13 – 400 feet
Mooring up to 660 feet
Berth 14 – 200 feet
Mooring up to 260 feet
[/custom_list]
[/one_fourth]
[/row_fluid]
[spacer]
[row_fluid]
[one_half]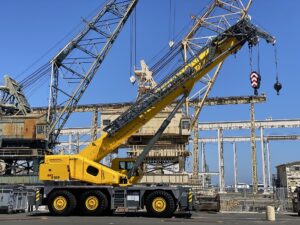 [/one_half]
[one_half]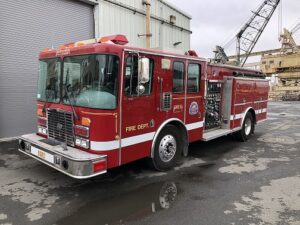 [/one_half]
[/row_fluid]
[/span8]
[span4]
Services list
[custom_list]
Dry Docking
Ship Repair & Conversions
Major Overhauls
Emergency Ship Services
Valve Repairs & Renewals
Machinery Repairs & Installation
Turbine Overhauls & Repairs
Reduction Gear Repairs
Structural Steel Renewal
Steel & Aluminum Fabrication
Vessel Berthing for Repair and Retrofit
[/custom_list]
Customers
[custom_list]
Cruise Ships
Coastal Tankers and Barges
Ferries and General Transportation
Military Sealift Command
US Coast Guard
US Navy
Commercial Freighters and Bulk Carriers
[/custom_list]
[/span4]
[/row]